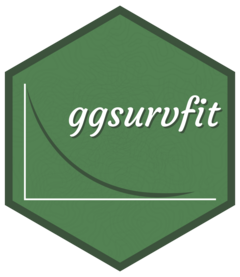 Changelog
Source:
NEWS.md
ggsurvfit 0.3.1
CRAN release: 2023-08-28
For transformations in tidy_survfit() that change the monotonicity of the curve, the conf.low and conf.high column names are now switched. (#154)
ggsurvfit 0.3.0
CRAN release: 2023-03-16
Added feature in add_risktable(risktable_stats=) to accept glue-like syntax—anything inside curly brackets will be evaluated. Users can now place multiple types of statistics on the same row, including allowing users to style the statistics in any way they like by adding rounding/formatting functions within the curly brackets. Users may now also display estimates and confidence limits in the risk table. (#135)

Updated ggsurvfit(), tidy_survfit(), and survfit2() to handle survival::coxph() models. (#9)

Updated the default margin size when a risktable is added to a figure. Namely, the primary plot's bottom margin is set to zero, along with each risktable's top and bottom margin. Moreover, the top and bottom margin of the legend is also set to zero.
ggsurvfit 0.2.1
CRAN release: 2022-12-06
ggsurvfit 0.2.0
CRAN release: 2022-10-15
Minor improvements and fixes